2009 NEWS AND EVENTS
• In December 2009 Artist Laureate David Witten completed recording a new cd of solo piano works of Nikolai Tcherepnin, which will be released by Toccata Records, commissioned by the Tcherepnin Society. The recording will include color reproductions of the 14 Benois paintings which correspond to Nikolai's 14 Esquisses pour un alphabet Russe d'Alexandre Benois, Op. 38

• In December 2009 Stefan and Sergei performed at the Grishavili Museum-Library in Tbilisi, Georgia.
• Fall 2009 saw the completion of a doctoral thesis entitled The Nine-Step Scale of Alexander Tcherepnin: Its Conception, Its Properties, and Its Use, by U. of Ohio doctoral candidate Kimberly Ann Veenstra (available on the internet).
Sue-Ellen Hershman-Tcherepnin and Serge Tcherepnin offer cajoling congrats to Artistic Director John Neumeier after Hamburg Ballet's opening performance of Nikolai Tcherepnin's Le Pavillon d'Armide.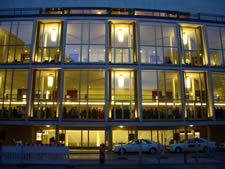 Hamburg Opera House aglow on opening night of Le Pavillon d'Armide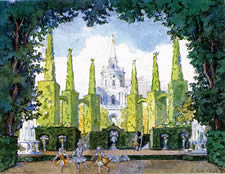 Alexandre Benois set design for the
Garden or Dream scene in
Le Pavillon d'Armide (1909)
• From June 28-July 12, 2009 the Hamburg Ballet and the Hamburg Philharmonic Orchestra presented Nikolai Tcherepnin's Le Pavillon d'Armide as part of its "Hommage aux Ballets Russes" Festival. Sue-Ellen Hershman-Tcherepnin, Serge Tcherepnin, Stefan Tcherepnin and Samantha Tcherepnine attended the opening performance along with Belaieff Publisher representatives Ulrike Patow, Viktor Suslin and Victor Kissine. In October 2009 the Hamburg Ballet brought the production to St. Petersburg.
• In June 2009, Sergei Tcherepnin performed in the Telluric Currents concert series at I-Beam in Brooklyn.
• On May 17, 2009 Stefan and Sergei Tcherepnin participated in performances and informal discussions centered on vintage analog synthesizers at The Stone in NYC as part of the Analogos Series.
• From April 15-17, 2009, the Harvard University Theater Collection (HTC) presented Diaghilev's Ballets Russes, 1909-1929: Twenty Years that Changed the World of Art. Organized by HTC Curator Frederic Woodbridge Wilson, the 3-day symposium and exhibition included a lecture and slide presentation by Tcherepnin Society Board Member Dr. David Witten, entitled Nikolai Tcherepnin and the Ballets Russes. The exhibit included set design paintings from Nikolai's Le Pavillon d'Armide, which opened the first Paris Season of Ballets Russes, as well as an autograph manuscript of Nikolai's ballet Narcisse.
• In 2009, music publisher C.F. Peters published the score of Sergei Tcherepnin's Fantasy for Guitar, Winds and Percussion, which received performances by the American Wind Symphony in several cities. In January, his incidental music to the play Love Monster was heard at New York's Dixon Theater. That same month, Stefan and Sergei Tcherepnin performed on synthesizers at the Emily Harvey Foundation in New York. They also each performed in Basel, Switzerland in June and September, respectively. From September through November, the Stuttgart Künstlerhaus mounted an audio-visual installation by Sergei Tcherepnin and Ei Arakawa entitled Quasar Lanterns. In November, Sergei and Ei presented their 8-channel soundwork "Sky, Horse and Death" at the London Institute for Contemporary Art.
• In 2009, Stefan Tcherepnin gave NY presentations at Bortolami Gallery, Starr Space and the School of Visual Arts. From May-July, his music appeared in There is no(w) Romanticism, a multi-media show at Galerie des Filles du Calvaire in Brussels.
Click here to return to NEWS AND EVENTS.